Moisture Meters Services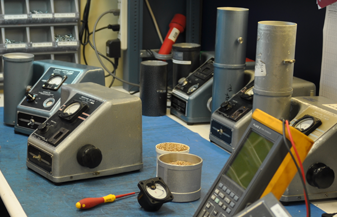 We sell, service and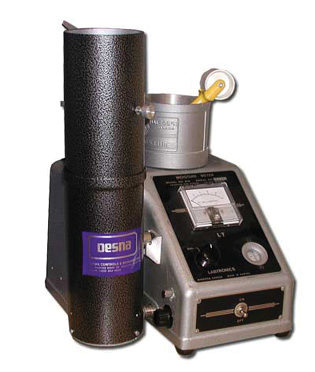 calibrate all elevator style Model 919 Moisture Testers and Scales in-house. Our trained service technicians have been repairing and calibrating 919 style moisture testers since 1994.
Moisture Meter Services:
Grain samples are received every 2 weeks from the Canadian Grain Commission to verify our calibration standard and ensure accuracy.
Based on this verified standard, all moisture meters are tested and calibrated at 3 points on the drum dial – low, medium and high.
Model 919 Moisture Testers and Scales Serviced:
Labtronics
Motomco
CAE, Halross
Nuclear
Conuclear
Moisture Meter brochure
Scheduled Services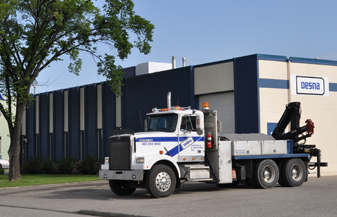 Scale Services
Desna offers complete service, repair, preventative maintenance and installation of most makes and models of weighing equipment:
In-house and field service of weighing equipment by well trained and equipped staff for most makes and models of scales from electronic, mechanical, electrical and pneumatic applications.
Heavy weights service truck for high capacity scales – over 10,000 kg/22,000 lb
Medium weights service truck for medium capacity scales up to 2,500 kg/5,000 lb
Service vans for general service and lower capacity scales
In house testing of crane scales on verified test stand.
Scheduled Scale Services:
Scheduled service - Annually, semi-annually, quarterly, monthly intervals based on customer's Quality Control requirements.
Regular service is scheduled for customers requiring regular inspection and service for weighing accuracy, quality control, maintenance and service based on customer requirements.
Fly-in Service:
Desna offers fly-in service to remote locations or to provide an emergency service to their customers.
Test Weight Reports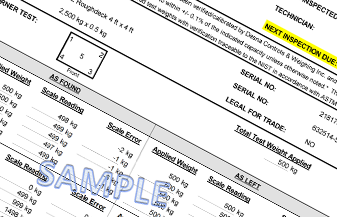 Device Inspection Reports:
All scales are tested with certified test weights and recalibrated as necessary.
"As Found" test weights certifed by Measurement Canada traceble to the NIST and "As Left" test reports are provided for each scale tested.
Online weight certificates
Scale Inspection Report Samples:
Accreditations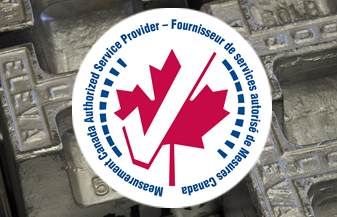 Measurement
Canada in accordance with S-A-01:2010 and
ISO 9001:2008
Authorized Inspector to certify approved weighing devices for use in trade
ComplyWorks
Confined Spaces
Fall Protection Awareness
First Aid/CPR
H2S
ICSN - ISN Networld Certtification
Master and Journeyman Electricians
Petroleum Safety Training/CSTS
PICS Auditing
POST – Petroleum Oriented Safety Training
TDG
WHMIS